Chattanooga Employment Attorneys Serving Clients Throughout Tennessee.
As an employment law firm in Chattanooga, our Chattanooga employment attorneys apply experience and personal attention to all of our cases rather than delegating them to paralegals or case managers. Basically, when we represent you, we aggressively pursue all of the damages that you deserve – not just a small portion of them – and it's our attorneys who do the fighting for you.
Our Chattanooga employment attorneys have extensive litigation experience in Tennessee employment legal matters such as wrongful discharge, workplace harassment and employee discrimination. Providing personal attention to each case and our experience make us the firm you want on your side.
It is important for us to understand the motivations of employers in employment litigation cases involving issues such as overtime and minimum wage claims, discrimination, and retaliation. With this unique perspective, our Chattanooga employment attorneys provide our clients with the "inside scoop" on how their employer will respond to their lawsuit. Additionally, it allows our attorneys to explain to our clients what "pressure points" they can use against their employers or former employers in order to help them receive the most compensation possible.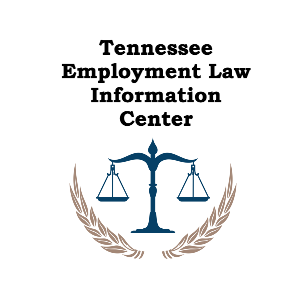 Speak to a Chattanooga employment lawyer today
Tell us how we can be of service and one of our team members will contact you.
EMPLOYMENT DISCRIMINATION STATISTICS BY TYPE OF DISCRIMINATION.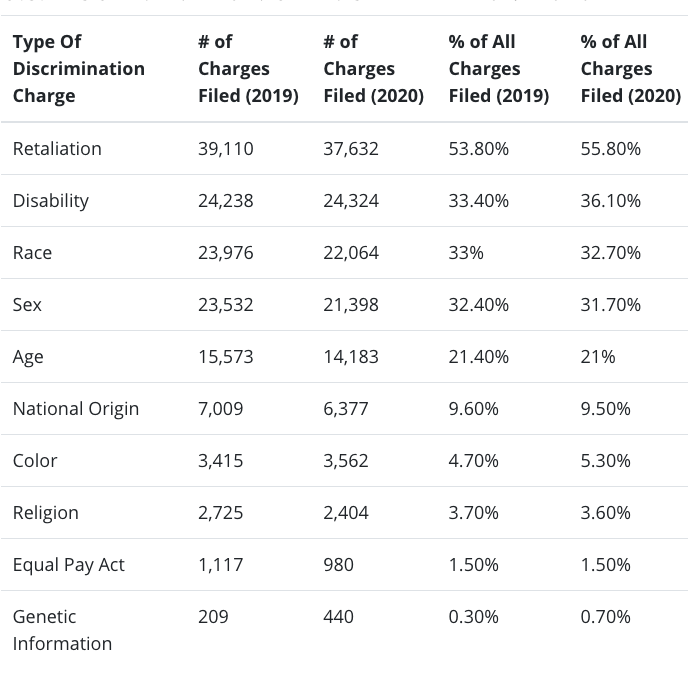 There are many reasons why workers may be discriminated against. There are many different types of claims and cases, which can range from age-related claims to racial discrimination. According to the extensive research done by ZIPPIA. different types of discrimination can be categorized as follows:
A total of 37,632 discrimination claims were filed in 2020 due to retaliation.
An employer's retaliation against employees engaged in legally protected activities is the most common form of discrimination in the workplace.
Retaliation is when an employer demotes or fires an employee for participating in a lawful workplace investigation.
With 24,324 discrimination claims filed and 22,064 race claims filed, disability claims are the second and third most common types of claims.
It's Difficult to Stand Up to Your Employer, A skilled Chattanooga Employment Attorney Can Help You.
It can be difficult to stand up to your current or former employer who has violated the law. We believe, however, that if something isn't right, you should fight for it! A skilled Chattanooga employment attorney can help you to better understand your rights and will work with you to determine what course of action is in your best interest.
Dedicated Chattanooga Employment Attorneys Ready to Serve You.
With years of experience in negotiating and litigating Tennessee employment matters, we take great pride in protecting the interests of Tennessee employees. Whenever you need legal representation, we are ready to assist you – our goal is to protect the rights of employees who have been harassed, discriminated against, or retaliated against.
Our Experienced Chattanooga Personal Injury Lawyers are Dedicated to Obtaining The Compensation You Deserve.
We also provide representation to those that have been injured in an accident due to the negligence of someone else. We handle the following personal injury cases.
Motocycle Accidents
Auto Accidents
Wrongful Death Accidents
Trucking Accidents
Dog Bites
Slip and Fall Accidents
The injuries that can result from complex motor vehicle accidents can range from minor to serious, and they can even result in death. As you recover from your injuries, pay for the medical bills, and get your vehicle repaired so you can resume normal life, you can face multiple insurance claims and lawsuits.
If you are injured in an accident, The insurance companies will try everything in the book to get out of paying you the compensation you deserve. Hiring a Chattanooga personal injury lawyer with a track record of beating them is the best way to assure that you get fairly compensated. Personal Injury victims need a legal team with guts and staying power to fight for every dollar they are entitled to recover for their pain, suffering, lost opportunities, and losses.
Our Chattanooga employment attorneys & personal injury lawyers have extensive litigation experience in employment and personal injury legal matters. Providing personal attention to each case and our experience make us the firm you want on your side.
If you have been injured in an accident or a victim of workplace harassment contact pne of our Chattanooga attorneys we will provide you with a complimentary consultation when you contact us. Our initial consultation with you will help you to better understand your rights and for us to determine the best course of action for you.
Trusted Chattanooga Employment Attorneys Representing Clients Throughout Tennessee.
Wrongful Discharge
In spite of its name, "wrongful discharge" is not a legal claim. Wrongful discharge, on the other hand, means that your discharge was illegal since it violated federal or state law. Your employer may be liable for your discharge depending on the reason.
Sexual Harassment
In Tennessee and the federal government, workplace sexual harassment is illegal. It may be possible to recover compensation and other remedies for employees who have been sexually harassed at work.
Workplace Discrimination
Some Americans experience discrimination on a daily basis. No matter what a person does or who they are, their skin color, gender identity, sex, age, religion, or disability affect their chances of discrimination.
Workplace Retaliation
If you have been retaliated against or treated unfairly at your place of employment because you reported illegal activity or refused to engage in it, The law also prohibits retaliation against employees who report violations regardless of whether the violation involved the employee reporting it or another employee.
---
Reach out to us for a complimentary consultation with a skilled Chattanooga employment Attorney.