Knoxville Personal Injury Lawyer and Tennessee Car Wreck Attorneys With Decades of Experience Fighting For Our Client's Rights
Personal Injury Practice Areas
WE CAN HELP IF YOU HAVE BEEN INJURED.
Our Knoxville personal injury lawyers represent clients throughout East Tennessee. The firm has recovered compensation for clients involved in distracted driving accidents, drunk driving accidents and fatal accidents. You can trust us to always tell you the truth about your case.
Our Tennessee personal injury attorneys have obtained compensation for many clients through settlement or verdicts for Tennessee injured victims of car, truck, and motorcycle accidents, as well as other personal injury claims. 
Our skilled Knoxville Personal Injury Lawyer Can Help you.
Physical, emotional, and financial hardships are caused by personal injuries. Consequently, the individual and his or her family will experience significant stress. In the event of a serious injury caused by negligence, whether you are the victim or the defendant,
If you have been injured in an accident, you should contact a Knoxville personal injury lawyer as soon as possible. Tennessee has a one-year statute of limitations for filing a personal injury claim.
Upon reviewing the circumstances and facts of your case we will present you  with all of your options, and we will help you determine which avenues will lead to maximum compensation. In the event that the other party refuses to fairly compensate you, we are not afraid to take your Tennessee injury case before a judge or jury.
We offer a legal team that has many years of experience representing plaintiffs' rights and fighting insurance carriers on behalf of our Tennessee personal injury clients.
Our Knoxville personal injury lawyer is dedicated to serving the East Tennessee community. Throughout the state of Tennessee, our Knoxville auto, trucking and motorcycle accident injury lawyers are here to serve individuals with personal injury law matters. We have decades of experience providing clients with effective legal representation along with extensive resources at our disposal. 
TDOT Tennessee Car Accident Statistics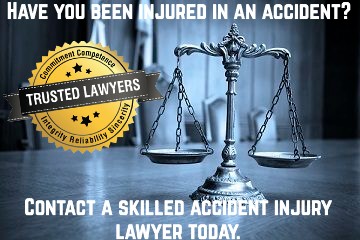 Contact a Trusted Knoxville Personal Injury Lawyer.
If you have been injured in an accident due to someone else's negligence it's vital that you contact a experienced Knoxville personal injury lawyer as soon as possible. 
OUR KNOXVILLE PERSONAL INJURY LAWYER CAN HELP IF YOU HAVE BEEN INJURED.
Our Knoxville personal injury lawyer represents clients throughout the state of Tennessee. If you wish to discuss your accident and legal options with us, we are ready to meet with you. Find out what a dedicated personal injury attorney in Tennessee can do for you. Contact us to schedule a free case review.
YOU WILL NOT FIND FALSE PROMISES HERE, JUST HONEST ANSWERS.
We go above and beyond for our clients.
Our Tennessee personal injury attorney located  in Knoxville, TN work closely with our clients. We like staying in touch with you on a regular basis, we want to know what has happened since your accident and how it has affected your life. We are here to help you through the legal process. In our eyes, you're more than a client. We consider you a partner in this venture.
By working together, we can create a case that gets results.
Our personal injury Law firm is about honesty. There will be no false promises or guarantees here. You can expect honest answers to your questions. You'll have an attorney who is upfront and honest with you. You will receive updates and a return call from your attorney. Your case will be aggressively represented by a lawyer who won't back down until a successful verdict or settlement is reached.