Experienced Knoxville Wrongful Termination Attorney Fighting for Tennessee Employee Rights.
Our Knoxville wrongful termination lawyer provides legal representation for individuals who have been wrongfully terminated by their employer. Our Tennessee wrongful discharge attorney has decades of experience providing clients with effective legal representation for clients throughout Tennessee.
Tennessee law grants you rights designed to ensure that you are treated fairly at work in exchange for your labor. You were wrongfully fired if your rights were violated. There are many exceptions to Tennessee's at-will employment doctrine even though it is a state where employment is at-will.
There are four broad categories of legal rights that Tennessee employees can rely upon in the employment relationship:
(1) Statutory;
(2) Common Law/Public Policy;
(3) Contractual; and/or
(4) Constitutional.
Speak to a Knoxville wrongful discharge attorney today
Tennessee Wrongful Termination Attorneys located in Knoxville, TN
Contact Form
---

What are Tennessee Employee Statutory Rights?
Under federal and Tennessee law, discrimination or mistreatment of an employee on the basis of protected characteristics and activities is prohibited. Employees may not be terminated for opposing unlawful discrimination or harassment for themselves or coworkers due to retaliation by an employer.
Trusted Knoxville Wrongful Termination Attorneys For The Justice You Deserve.
Tennessee Employment Law / Public Policy Rights
A number of common law protections have been identified by Tennessee courts against being terminated in violation of public policy. Consequently, an employer cannot fire an employee for exercising a right that is granted to him or her by Tennessee public policy. Among the reasons for wrongful termination against public policy are:
In accordance with state law, taking a meal break
Serving as a juror
The process of filing a workers' compensation claim
Refusing to violate OSHA and other safety laws
Providing truthful testimony in a lawsuit that involves the employer
Experienced Tennessee Labor Attorneys Here to Assist You.
An employee with a contract of employment has other legal rights against an employer. Legal claims may include breach of contract if:
Negligent misrepresentation
An employer's written representations that an employee's job is secure may create an implied employment contract.
Union employees have contractual rights via their collective bargaining agreement.
Negligent misrepresentation
An employer's written representations that an employee's job is secure may create an implied employment contract.
Union employees have contractual rights via their collective bargaining agreement.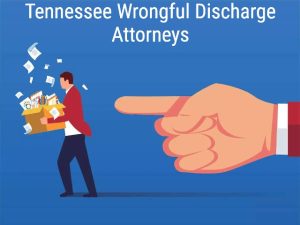 What Are the Constitutional Rights of Tennessee Employees?
U.S. and Tennessee constitutions may protect public employees from wrongful termination. Public employees have the right to speak freely on matters of public concern under the First Amendment. The continued employment of public employees may be protected by both liberty and property  interests, which may result in due process requirements such as a Loudermill hearing. The wrongful termination lawyers in Knoxville, TN are will be here to assist you with all your employment law needs.
Who regulates wrongful termination claims?
According to the Tennessee Department of Labor and Workforce Development The Equal Employment Opportunity Commission (EEOC) regulates all employee wrongful discharge claims. You can contact them at (615) 736-5820 or (800) 669-4000.
Filing a Complaint With Your Employer.
If you believe your legal rights were violated while still employed. Contact your employer in writing via letter or email. Be helpful and professional, offer solutions to the problem, and do not make threatening statements in the complaint.
Your Employers Human Resources department is not your friend. Human resources are paid by your employer to protect the company from you, not vice versa. Respect the HR personnel at all times, but keep in mind they won't risk their jobs for your sake.
Know your Rights Contact an Experienced Knoxville Wrongful Discharge Attorney Today.
Being aware of your legal rights can provide you with a great deal of peace of mind. In ignorance, there is a risk of harm; what you do not know can affect your legal standing. Contact an experienced Knoxville wrongful termination lawyer for a free consultation to discuss your case and learn your legal options. Time is of the essence Tennessee statute of limitations applies to claims of wrongful discharge. You will lose your right to sue for employment law claims if you miss this deadline. The EEOC may allow you to file a complaint as little as 300 days after the incident occurred.
We can help you seek the compensation and justice deserve if you have been wrongfully terminated by your employer. Our trusted Knoxville wrongful termination attorneys are prepared to investigate your employment wrongful discharge complaint to determine if you have a valid claim.
Contact us to schedule your complimentary consultation.